Oh Canada, finally! Well, to be more specific; Vancouver. Sebastian and I love places with cool weather and amazing landscapes. For our honeymoon, we went to Norway (check out the post here) and London (click here for London). We planned this Canada-Alaska trip for almost a year. Alaska was on my bucket list as well as Canada (and still is because there are so many places we still need to visit, someday).
So, I'll try to do this short. We booked a cruise with Holland America Line , sailing from Vancouver. Our plan was to tour a little in Vancouver so we stayed 2 nights in Vancouver, then we sailed to Alaska for a week, and we ended up staying 2 more nights in Vancouver at the end of our cruise trip.
JOFFRE LAKES – Yes, lakes in plural. There are actually 3 different lakes in this hike. Sadly (kinda), we just got to see two of them. Why? Because I was still feeling under the weather from this flu/virus I had for days before traveling. And let me tell you, IT WAS CHALLENGING to hike like that. Making frequent stops to catch my breath under a cold and rainy hike. Not easy but WORTH IT. So, the first two lakes were pretty amazing., we made a snack break on the middle lake and of course, we took a lot of photos. The only thing we wished for was for better weather.

Our tired, wet, but happy faces! I love you.
MOVING ON TO ALASKA – for those interested in the places we visited. I'm sharing our cruise itinerary right here:
CRUISING TO ALASKA –  YES YES YES YES! 
YES, THE WIND WAS COLD AF AND WE WERE SO HAPPY TO BE THERE.
JUNEAU & MENDENHALL GLACIER – First stop. So wet, so cold but so much fun. I mean, we knew what we were going for. Since we started planning this, we saw many online recommendations to stop by in Tracy's King Crab Shack, the place is right in the port so you won't miss it. You now may know by the name that you'll find leg crabs, biscuits, soup and of course, beer. PS: Before I forget, book all your tours/excursions WITH your cruise line, that way you'll have the peace of mind that if anything happens during the tour, your cruise will wait for you.  We booked ours online and we bought others overboard.

j
SKAGWAY – Here is where we had THE best experience ever. like WOW. If you can, I totally recommend this one, a million times. GLACIER DISCOVERY BY HELICOPTER.  It was my first time on a helicopter (TEMSCO) and obviously, my first time hiking on Chilkat Glacier, I still smile from ear to ear when I remember that day.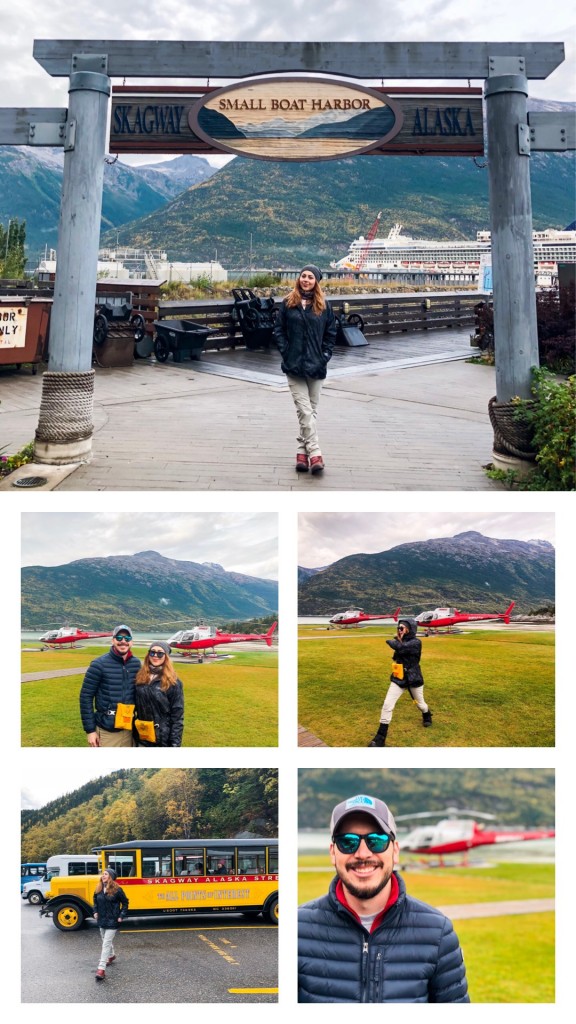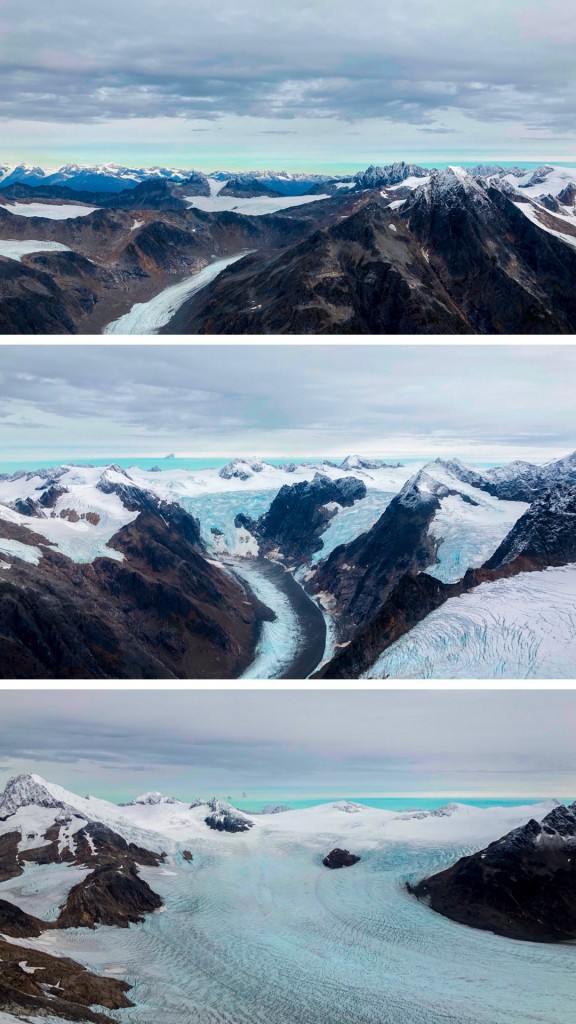 So, after this amazing tour ended, we got back to our cabin,changed our clothes and had some lunch before doing our next tour on a train. Yay!
WHITE PASS & YUKON ROUTE – For this tour, we really just chilled and enjoyed everything. The landscapes are truly beautiful and the whole experience of being on a train was so nice as well.
KETCHIKAN – This place was so nice and calm. We took the Misty Fjord tour boat, had some vegan chili (so good), hot tea and took lots of photos. Then we got back to the port and just walked around, we bought some souvenirs and had some good lunch.
TRACY ARM GLACIER – So this part was from the cruise, meaning, you get to enjoy this great view from the promenade and activity deck of the cruise. We got plenty of time to take photos and just really TAKE IT IN.
We had another ¨Captains Dinner¨ while on sea, but we didn't go because we were a little bit seasick, dizzy to be exact. We had like 2 different days were the cruise moved a lot and decided to have room service instead and rest.
Our cruise trip ended here and got back to Vancouver to enjoy another two full days.
VANCOUVER – for a little bit more. So we tried to squeeze as many tours as we could. Our first day in Vancouver we went for a super early breakfast at Caffe Artigiano Hastings (OMG you have to try their coffee, not kidding). We walked downtown and had italian lunch one day. We did a little shopping, took a highlights tour bus around the city. My legs shook while walking the Capilano Bridge (never again, bye!). We felt like kids on Telus World of Science and we even got to visit Vancouver's Aquarium where I terribly fell In love once again with Jellyfishes.
This was an amazing holiday. One I definitively recommend ♥
Namasté.