♥
Hello everyone! So the other day I got some ZAFULs dresses on the mail and honestly, I love them. They are perfect for this summer and so «in».  Thank you so much. If you haven´t heard about ZAFUL, you should visit them online and do some shopping. Let me tell you a little bit about my experience with them..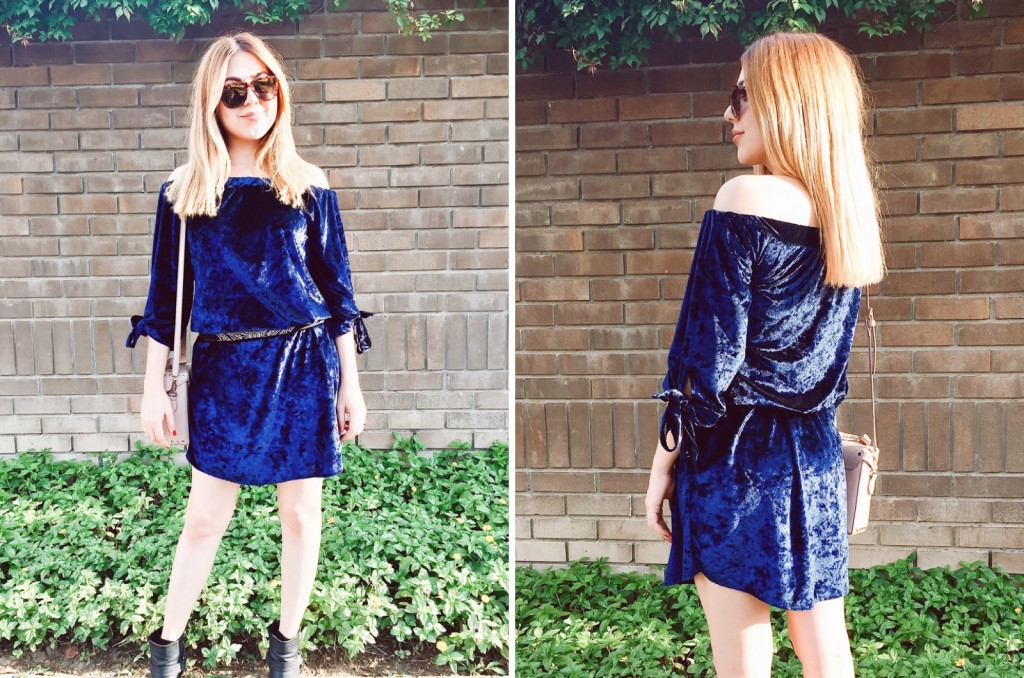 So this velvet dress is my favorite,. It is soooo comfy and If you add a belt (or a bandana) on your waist/hips it looks cooler and more bohemian. Besides, it enhances your body figure. I loved this one so much that I have already worn it like 4 times! No kidding… With ankle boots, sandals and even sneakers! About quality? Very nice fabric.. If you are looking for a velvet dress that lasts many laundries, well this is the one. BTW, if you are not a velvet fan but want something similar, check out this gorgeous blue off the shoulder dress they have online!
(Unfortunately this product is sold out!) But you can find something similar online.
This long black blouse is perfect for a casual look. I wore mine the other day over leggings and sneakers on a Saturday morning looking for flowers for my wedding (yes I´m getting married really soon!). What I really liked about this blouse is the neck design and the softness of the fabric. It is so soft you can even wear it for a yoga class.
(Unfortunately this product is sold out!) But you can find something similar online.
I was so sad when I tried this dress on, why? Because It did not fit me well.. 🙁 It´s a medium size but I guess It comes a little bit reduced. The zipper does not close completely on my chest area, maybe If you have smaller boobs It will fit just fine! I was so thrilled about this one because the printed design is so so lovely. Anyway, I´ll see what magic I can do to wear it.
I´ve been wanting a silver clip earring like this one for very long, and finally I got one from ZAFUL. It´s actually very easy to put on and it look really cool. If you are a golden gal, you can find them too online. (I prefer silver or rose gold).
Thank you ZAFUL for my new items!
Namasté!